On this page you will find all the resources available to our partners.  If you would like to order anything then please use the contact form below.
Kent Breastfeeding Resources A6 Postcard
Kent Breastfeeding Resources A4 Poster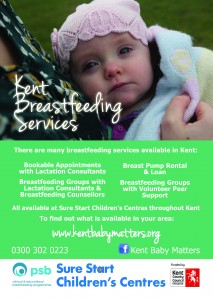 If you would like to create a bulletin board with a breastfeeding focus you can choose from the following topics and we will email you the files so that you can print, laminate and create your own board.  Please state small or large when enquiring.
Board A – Local breastfeeding mums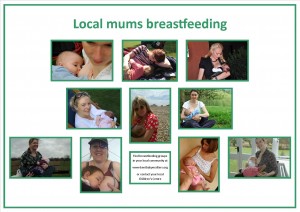 Board B – Become a volunteer breastfeeding peer supporter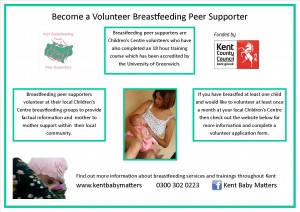 Board C – Breastfeeding and returning to work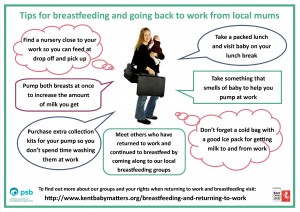 I'll add PDF links below to each individual piece of the returning to work board so that you can print and laminate yourself.  You will have a choice of large or small depending on your board size.
We've also put together a handout for mothers who are going back to work using the above tips and more.
Tips for Breastfeeding and Going Back to Work Handout
Reasons to Support Breastfeeding Mothers in the Workplace Poster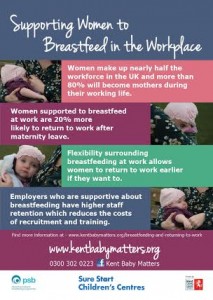 Returning to Work and Breastfeeding Board images to print
Large
BF and work board title Large
Back to work image
BF and work Tip 1 Large
BF and work Tip 2 Large
BF and work Tip 3 Large
BF and work Tip 4 Large
BF and work Tip 5 LargeBF and work Website Large
BF and work Tip 6 Large
BF and work Come to group large
BF and work Logo Large
BF and work Website Link Large
Small
Back to work image Small
BF and work board title Small
BF and work Tip 1 Small
BF and work Tip 2 Small
BF and work Tip 3 Small
BF and work Tip 4 Small
BF and work Tip 5 Small
BF and work Tip 6 Small
BF and work Come to group small
BF and work Logo Small
BF and work Website Link Small
Board D – Breastfeeding Out and About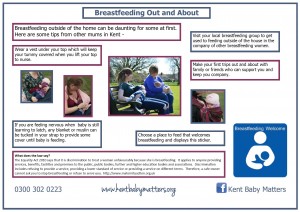 Download the images, print and laminate as needed –
Nursing in Public breastfeeding welcome sign
NIP Central Image
NIP FB name and website
NIP image sling and phone and fb image
NIP Images breastfeeding top and with blanket
NIP Law
NIP Left Sections
NIP Question
NIP Right Sections
NIP Title
Breastfeeding Welcome Logo
Board E – Breastfeeding – We Are Here For You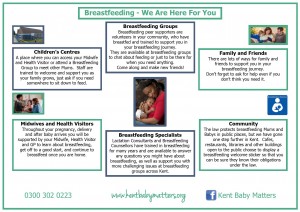 The theme for National and World Breastfeeding Week in Kent for 2017 will be 'Together', highlighting the support available for breastfeeding across the County.  Downloand the following images to create your own  small or large bulletin board display.  More photographs of local breastfeeding women are available, just ask.
Small Bulletin Board
Title Small
Children's Centres, Breastfeeding Groups and Breastfeeding Specialists Text Small
Friends & Family, Community and Health Professionals Text Small
Contact Info Small
Breastfeeding Welcome Sticker Small
Edenbridge and Little Forest CC
Little Pebbles Milton Court CC
Tenterden and Priory CC
Breastfeeding Baby x2 Small
Breastfeeding Group Small
Mum Breastfeeding and Sisters Breastfeeding Small Image
Partner Breastfeeding and Twins Small
Stock Family Small
Stock Hospital Small
Large Bulletin Board
Title Large
Children's Centres Text Large
Breastfeeding Groups Large
Breastfeeding Specialists Text Large
Family and Friends Text Large
Community Text Large
Health Professionals Text Large
Contact Information Large
BF Welcome Sticker Large
Little Hands Poppy CC
Buckland CC
Seashells Swanley CC
Breastfeeding Baby Large Image C
Breastfeeding Baby Large Image
Breastfeeding Twins Image Large
Black and White image Large
Partner Breastfeeding Image A Large
Penguin Image Large
Sisters Breastfeeding Image A
Sleepy Baby Large Image
Stock Photo Family Large
Stock Photo Family Large B
Stock Hospital Image Large
Breastfeeding Group Large



More options will be added in the future, but please ask if there is something you would like to see.