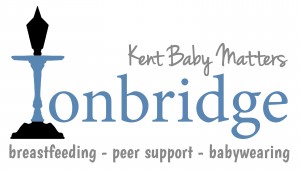 A weekly Breastfeeding and Sling Group at Tonbridge Baptist Church on Darenth Avenue TN10 3HZ every Tuesday 9:30-11:30am
Everybody is welcome to come along to this new weekly group in Tonbridge. Family, friends and children are all encouraged to come (we will provide toys).  Whether you are expecting your first or fifth baby, or your little one has already arrived, we have lots going on at this new group. All information and support will always be provided at this group free of charge. We will also provide some additional services at a small or discounted cost so that we can make this group sustainable.  Donations are of course also welcome, and can be made on the day or through Paypal here.

Breastfeeding Information and Help – A Breastfeeding Counsellor and/or Lactation Consultant and Volunteer Breastfeeding Peer Supporters will be available to answer any questions you might have about breastfeeding, offer help with feeding and offer advice for more complex breastfeeding situations. You do not need to have questions or be having problems, do please feel free to come along and just enjoy the company of others or have the chance to drink a cup of tea while it's still hot.  Both the Lactation Consultants and Breastfeeding Counsellors are fully trained and insured to complete full feeding assessments which may include an oral examination to determine if tongue-tie may be affecting feeding, and then complete an appropriate referral.
Baby Sling and Carrier Information and Help – Trained Babywearing Consultant and Volunteer Babywearing Peer Supporters will be available to answer any questions you may have about using a sling with your newborn through to preschooler.
Sling Library – A large range of slings and carriers will be available every 1st and 3rd week of the month for you to have a look at and try. Bring your own sling for help with using it or getting it more comfortable. Learn about how to use a sling safely, and have the chance to take one home for a real test drive for a small fee (Usually £10/month (increasing to £15 in March 2020) plus a deposit of £10-20, no fees charged for those oreceiving Healthy Start vouchers).
Cloth Nappy Library – Kent Cloth Nappy Library will join us on the 4th Tuesday of every month to answer questions about using reusable nappies and has kits available for you to rent and try out for a month before deciding if it's right for your family and which ones are the best fit for you.  Nappy kits are available in newborn and birth to potty sizes and cost £15/month plus a £15 deposit (free for those receiving Healthy Start Vouchers)
Maternity and Nursing Bra Fittings – We will be joined on the 4th week of each month by a local bra fitter who will be happy to work with you to find a comfortable fit for you before and baby arrives. If this service becomes busy, we may start booking appointments in the future.
Breastpump Hire – Pumps will be available for hire for any reason. As we start this project we will only have small numbers which will be prioritised for those who need them the most. As we build numbers, we will have the capacity to offer the service for those going away on trips or going back to work (expected cost will be £10 to hire the pump for one month plus the cost of the kits which are usually around £10 each but this may change once we decide which pumps to use, no fees will be charged to those receiving Healthy Start vouchers).
Refreshments – We plan to provide hot drinks and snacks each week. A donation is always appreciated, but only if you are able. Fruit will always be available free of charge for the kids (unless I completely forget to bring some as I definitely always prioritise the cake).
Sing Sales and Nursing Bra Sales – If you decide that you would like to purchase any of the products you try out at the group and we are able to get hold of them for you, we will use the proceeds to fund additional support at the group. We are also always happy to provide any discount codes we may have for other retailers so that you can compare prices.
We look forward to meeting you and your family!
Thank you to Tonbridge Councillor Richard Long for his donation towards the funding of Healthy Start Loans of slings and pumps in October 2019.
Thank you to Involve Kent social prescribing for a grant to pay for the spce we use at Tonbridge Baptist Church un 2019 and 2020.