There are many different types of slings and carriers available.  The purpose of a sling library is to offer the space, support and opportunity to find out about different slings and make sure that you find the best fit for your family.
Here are some examples of the types of slings and carriers you might see at the sling library.  However, if you are looking for something specific do feel free to message us letting us know where you live and what you are looking for and we'll see if we can help –
Stretcy Wraps and Hybrids
Stretchy wraps and hybrids are the first slings for many families.  They are often used at hospitals to aid skin to skin contact for premature infants and are ideal for newborns transitioning from the womb to being outside in the world.  Stretchy slings provide great comfort and flexibility for the wearer as they can fit all shapes and sizes.  They are perfect for young infants, and great for parents throughout the day as they can be left on so baby can go in and out without having to re-wrap (small adjustments may be needed).
As babies grow, they may become too heavy for the stretch, and that would be when you might need to move on to one of the other types of carriers available.  A stretchy wrap or close caboo hybrid carrier is usually great for around the first 3-6 months but can be used up to 12 months.  The new Ergo Embrace carrier is a buckle carrier that uses a fabric with softness and stretch like a stretchy wrap.  This ergo is probably best up to 12 months of age, and can be used with baby facing forward from around 5 months.
We carry stretchy wraps from Joy & Joe, Je Porte Mon Bebe, Izmi and Calin Bleu
We have hybrid carriers by Close (Close Caboo)
Ring Slings can be used from birth and when using one with a woven fabric such as that used to to make a woven wrap they can be used up to preschool age.  The weight is spread across the back and one shoulder, so with an older infant they may be more of a one hand free option.  Baby is in the same position as a stretchy wrap and can be carried on the hip from around 6 months.
We carry Ring Slings from Je Porte Mon Bebe and Luna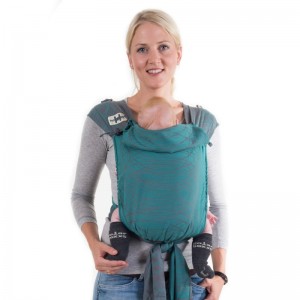 Asian Style Carriers
Before we had buckles, we tied knots.  These style of carriers generally have a waistband and two shoulder straps that are tied.  Infants and children can be carried on the front or back, and depending on the carrier can be used from birth to 2 years +.  These carriers fold up small and generally fit all adults.
We carry the Hoppediz Conversion pictured above which works from birth.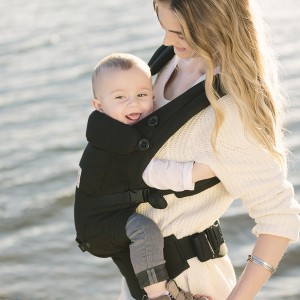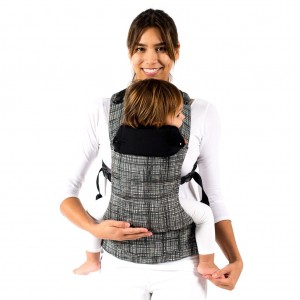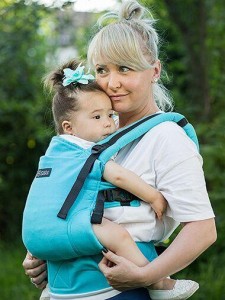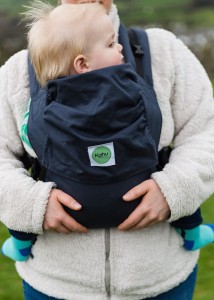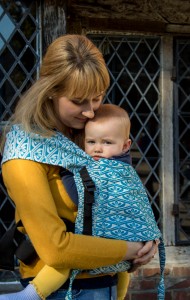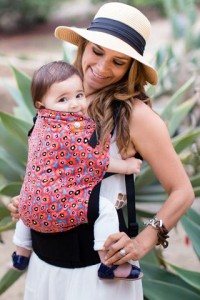 Soft Structured Carriers or Buckle Carriers
There are a large number of different buckle carriers available on the market.  New styles are launched frequently, so do contact us if the carrier is not listed below as we may not have the time to update it immediately.
Buckle carriers have a waistband, body panel and shoulder straps that use buckles instead of knots.  Some main differences are –
Padding – some carriers have large padded waistbands and padded shoulder straps.  There may also be a difference in the padding around the leg opening for baby.
Shoulder Straps – some carriers allow the shoulder straps to run parallel down your back only, and some can also be crossed.  This changes the way you would put on the carrier, and some people find crossed straps more supportive.
Sizing – some carriers are a static size and others have the ability to change the width and/or height of the body panel to fit your baby as they get bigger.
Positions – some carriers can only offer the wearer facing front carry, others offer a back carry (from around 6 months), hip carry (from around 6 months) and a few offer a forward facing position (from around 5 months)
Twins – there are a few carriers that offer an option specifically for twins.
Toddler – there are bucklae carriers that are designed for toddlers and are larger than the average buckle carrier.  They usually work from 18 months upwards and have a larger maximum weight range.
We carry a large number of buckle carriers in the sling library from Ergo (Embrace, Adapt, 360, Omni 360), Tula (Standard, Free To Grow, Explore and Toddler), Isara (Standard, Toddler and The One), Beco (Gemini, 8 and Toddler), Integra (Size 1, 2 and 3), Kahu (Baby), Izmi (Standard), Lenny Lamb (LennyUp), Mamaruga (Zensling)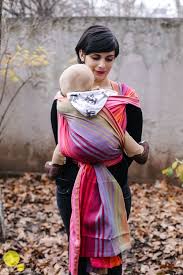 Woven Wraps
Woven wraps can be used from birth to preschool age and are really versatile with many different ways to tie them to create front, hip and back carries.
We carry size 6 woven wraps from Luna which are great for a newborn carry and a Joy & Joe size 4 woven wrap.