PSBreastfeeding CIC was awarded the infant feeding services contract for Kent in October 2014 and we have been working away behind the scenes to recruit and train new volunteer breastfeeding peer supporters to join the current team of dedicated ladies.
We have been working our way around the County providing peer support training that has been accredited by the University of Greenwich.  Each volunteer has completed this 16 hour breastfeeding training, as well as volunteer training from the Children's Centre they will be volunteering at.  These are passionate and highly committed women who have breastfed their own children and want to give something back to their community.
April 2015 – Thanet Peer Supporter Graduation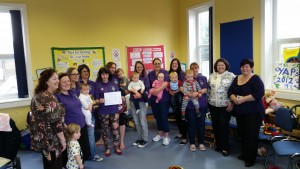 10 amazing women graduated in Thanet and the cake was amazing!
You can see Lyn (one of the PSB Directors) on the very left and Jeanette (our Thanet peer support lead until June 2015) on the very right.  I'm taking the photograph.  We had a lovely morning in Cliftonville at the graduation event and I even got a glimpse of the sea on my way there.
Read about the day in the Thanet Gazette.
April 2015 – Canterbury Peer Support Graduation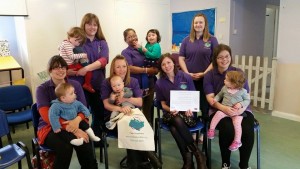 9 fabulous women graduated in Canterbury, all ready to start volunteering in Canterbury and along the Coastal towns.
May 2015 – Ashford Peer Support Graduation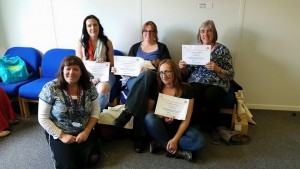 We had a lovely team of 5 women graduate in Ashford in May and if my memory serves me correctly one of the trainees had a 2 week old on the first day of training, now that's dedication!
Phil (the other Director of PSB) is sitting down on the left.
June 2015 – Maidstone Peer Support Graduation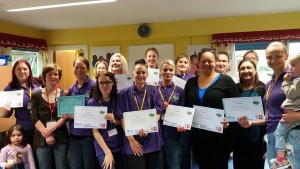 An enormous 14 trainees graduated in Maidstone in June after completing their training.  This is a great addition to the existing volunteers and has meant that we have been able to increase services for this area with a very high birth rate.  We now have two specialist-led groups in the Maidstone District at the Salvation Army and in Parkwood.  If you are attending any baby groups or healthy chil clinics you might bump into one of the new volunteers, so say hello!
You can just see Harriet, the Maidstone peer support lead in the background (fourth head from the right) and Rebecca, the breastfeeding counsellor is on the left (second from the end).
June 2015 – Swale Peer Support Graduation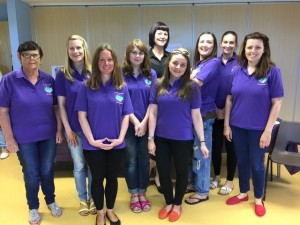 Hot off the press, 8 outstanding graduates from Swale join the amazing team that covers Sittingbourne, the Isle of Sheppey and Faversham.  Hannah, the Swale peer support lead can be seen at the back of the group (hint – she's super tall and isn't wearing purple).
To Come in 2015
June 2015 – Dover Peer Support Graduation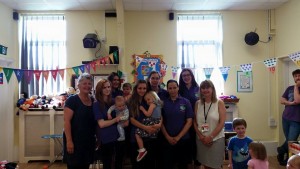 It was a lovely morning in Dover as we welcomed 8 new breastfeeding peer supporters to the team.  We hope to have some more activities up and running over the next few months.
June 2015 – Tonbridge Peer Support Graduation
July 2015 – Gravesham Peer Support Graduation
August 2015 – Paddock Wood Peer Support Graduation
If you would like to volunteer and train to become a breastfeeding peer supporter in Kent then please read the information we have posted and download an application to complete HERE.