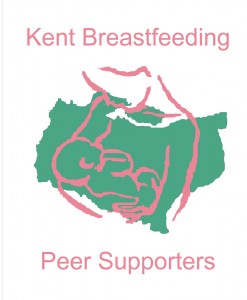 They are Children's Centre volunteers who have breastfed their own children and have received additional training in breastfeeding. They provide Mother to Mother breastfeeding support with non-judgemental and evidence-based information for both pregnant women and breastfeeding mothers, supporting them in their breastfeeding goals. Peer Supporters are clinically supervised and receive on-going training from PSBreastfeeding CIC who are funded by Kent County Council.
Breastfeeding Peer Supporters in the community  –
Provide support and encouragement to breastfeeding mothers
Normalize breastfeeding in the local community through local events
Help run mother and baby breastfeeding groups
Provide breastfeeding information during antenatal education classes and at one to one appointments in childrens centres
provide support on the maternity wards as hospital volunteers
Breastfeeding Peer Supporters are trained to support healthy breastfeeding mothers with healthy term infants. Specific breastfeeding problems will always be referred to a health professional and/or breastfeeding specialist.
Read about the different people in Kent who provide breastfeeding support here to decide who you need to talk to.
If you would like to donate your time to train and volunteer as a breastfeeding peer supporter helping mothers and babies in Kent then please go here for more information.
Here are some reasons why some of the current peer supporters decided to volunteer –
'I really appreciated the help I received whilst breast feeding my second daughter. I really wanted to give something back and realised that without the peer support other mums would not receive the support I did. It's an amazing feeling to see a mum get through the hardest times with our help'
(Jo has been a peer supporter since 2011)
'I decided to train to be a peer supporter after having a really bumpy breast feeding journey with both of my children, I want to make sure mothers feel supported xx'
Vicky has been a peer supporter since 2014
'I became a peer supporter as I feel it's important that mothers feels empowered on their mothering journey'
Bex has been a peer supporter since 2014
'I trained as a peer supporter as I wanted to be able to help mothers where I was let down. I feel that antenatal and early post natal support is key to a successful breastfeeding journey'
Victoria has been a peer supporter since 2013
'I became a peer supporter because no mum should have to go through the journey of breastfeeding, for however long that might be, without having support. The peer supporter training course was really informative and so inspiring. And now being able to use that training to support new mums on their individual journeys is such a privilege and makes me feel like I'm really making a difference to them and their families'
Roz has been a peer supporter since 2011
'I've been a peer supporter for almost eight years and the pleasure I get from helping mothers (and their families) to overcome breastfeeding challenges or just listening to their questions is immense. This is worthwhile – breastfeeding families in other parts of the country often get little or no support – we make a difference'
Bridget has been a peer supporter since 2006

'Being a peer supporter is so important to me due to the experience I received personally.  The Swanley group made my first baby the best experience I could ever have wished for.  I got just the right level of support that enabled me to become a confident mother, making our early years happy rather than stressful.  I can't thank the group enough for that. It also gave me friendship, like nowhere else, with like minded mums who I'm still very close with now over 2yrs later'
'Passing that supported feeling to enable other mothers to feel that confident is what drives me to peer support'
Kay has just completed her peer support training (Nov 2014)
"I have loved training as a breastfeeding peer supporter, it has enabled me to do something for myself and to meet other mums with the same passion. It has also helped me to gain the skills to help other mums who may be in the same situation as me, whether it be just wanting to find other breastfeeding mums or needing a little help and reassurance." Stacey is a mum of three and completed her peer support training in June 2015